Introducing Our New Glass Oil Pipes!
Glass oil pipes are becoming an extremely popular way for many people to enjoy smoking cannabis concentrates. We have sourced an exclusive range of high-quality glass oil pipes for our customers. Here at SSmokeShop, we believe in quality over quantity. That's why all our products undergo strict quality controls and testing.
Oil pipes are sometimes referred to as puff pipes or concentrate pipes. They are made from high-quality hand-blown glass which is special glass suited to smoking concentrates. All the glass oil pipes at SSmokeShop are made from premium Pyrex Glass. This makes them extremely durable and able to withstand high temperatures.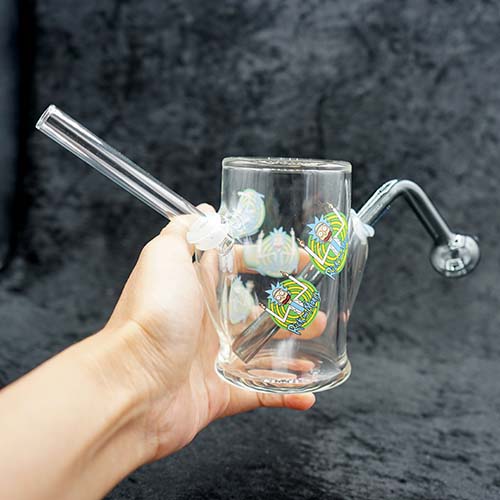 If you prefer vaping cannabis concentrates rather than smoking them, then oil pipes could be the best option for you. Vaporizing concentrates such as oil, waxes, and shatters are a healthier option when compared to traditional smoking methods. Vaping avoids many of the dangerous carcinogens you would inhale when you smoke. This is because there is no combustion when you vape.
When you smoke, the material is burned which then combusts and produces harmful carcinogens. When you use a glass oil burner, you avoid combustion because the concentrates are only heated to the point of vaporization.
Here at SSmokeShop, we have a large variety of different glass oil burners to choose from! It doesn't matter what style you prefer; there's going to be a glass oil pipe for you to choose from. We have a large selection of glass oil pipes which we are constantly updating. So, make sure that you check back often to avoid disappointment!
How Do You Use Glass Oil Pipes?
That's one of the great things about glass oil pipes. They're simple and easy to master. You'll be vaping like a professional in no time. So, how do you use a glass oil pipe?
Carefully place the oil or other concentrates into the glass bowl Start off by gently heating under the glass bowl with your lighter or torch Once your concentrates hit the correct temperature for vaporization, you'll notice them beginning to vaporize Now, you need to gently start inhaling on your glass oil burner, gently rolling it from side to side to move the oil around inside the bowl, and exhale
It's that simple! Glass oil pipes really are simple and easy to master, and you'll be hitting that glass oil pipe like a professional in no time at all.
We have a large selection of different glass oil pipes to choose from. So, it doesn't matter what style you prefer; we're sure that we have one to suit your preferences. If you don't see something you like, then don't hesitate to contact us directly, and we'll do our best to help you out! Our friendly and professional team is standing by to help assist you with any questions you may have.